Grand Casino partners with Otago Cricket to raise funds for mental health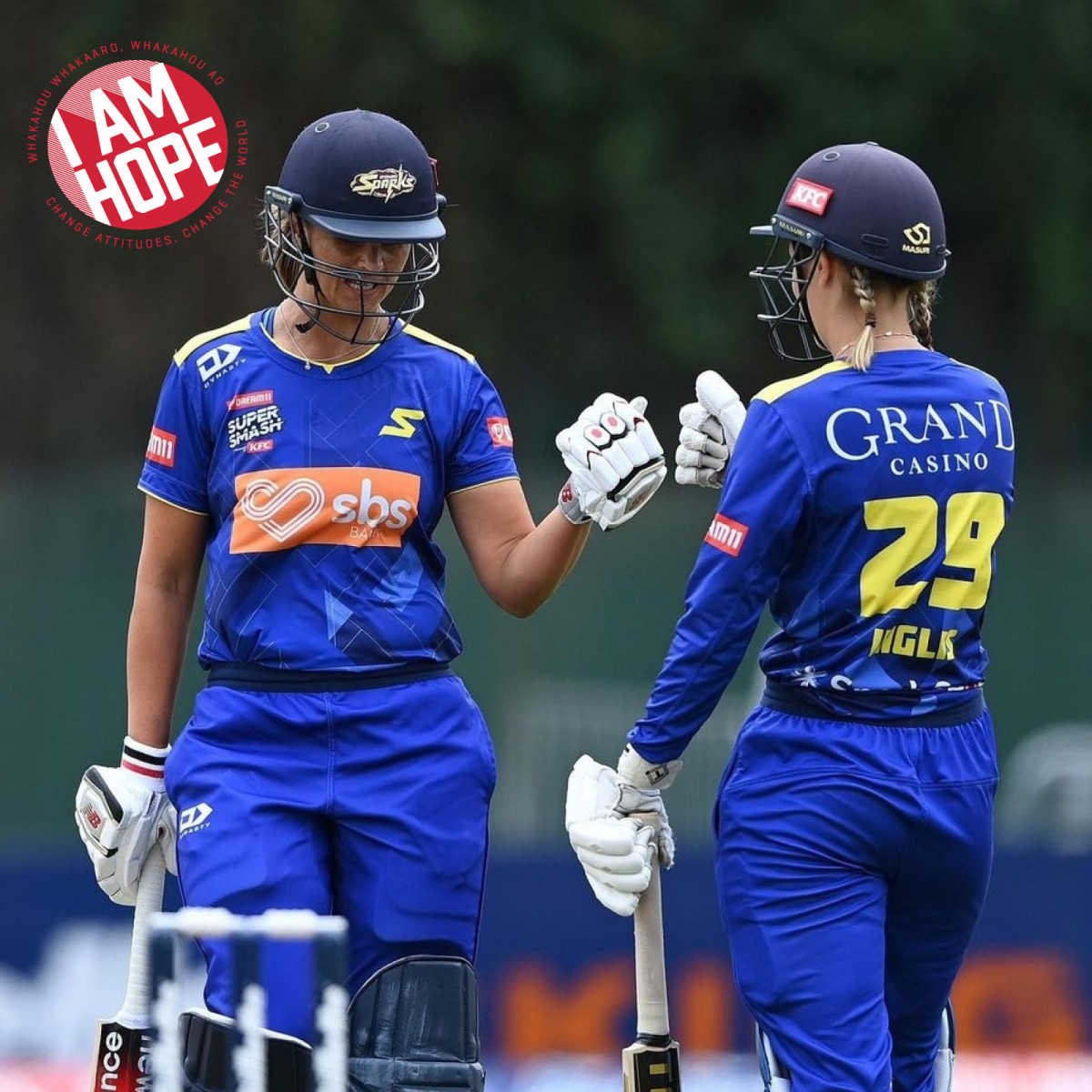 Grand Casino, principal partner of Otago Cricket are raising funds for 'I Am Hope,' this Sunday at the University of Otago Oval as the SBS Bank Otago Sparks & Otago Volts play their final Super Smash double-header against South-Island rivals Canterbury Magicians and Canterbury Kings.
I Am Hope is as an in-school, community, and workplace mental health program. Their aim is to forever change the way the people of Aotearoa think, act, and feel about mental illness and mental well-being.
'I Am Hope' Partnerships & Sponsorships Manager, Dallas Gopi, explained the benefit of the fundraiser to their organisation.
"I Am Hope are extremely proud to be partnering with Otago Cricket and Grand Casino for the Super Smash. The money raised from the event is going to help fund our Youth Ambassador Team who travel the country talking to kids in schools," explained Gopi.
"This year we hope to speak to at least 40,000 youth and young people throughout NZ," Gopi continued.
"Our job is to let them know that thoughts of doubt and despair do not mean they are mentally ill. It means they are normal. Thank you so very much Otago Cricket and Grand Casino for your continued support."
Grand Casino are proud to partner with Otago Cricket on matchday to contribute funding and awareness of the amazing efforts the team at 'I Am Hope' do in our community.
Their integral work in the mental health and awareness field is thoroughly appreciated and we are proud to support the cause.
There will be a range of fundraising initiatives in action on matchday, all aimed at raising funds & awareness for Mental Health.
Initiatives are as follows:

Grand Casino, will be contributing $5 for the first 500 tickets sold

.
Otago Cricket will donate $20 for every six and $10 for every four hit by an Otago Cricket Player across both the women's and men's game.
Pre-loved Otago Sparks and Volts playing kit will be available for fans to purchase for a $5 minimum donation; please donate generously.
Night 'n Day ice cream for a gold coin donation – with all money raised going directly to I Am Hope.

A text line has been set up and will be promoted it throughout the day if you cannot be attendance at University Oval, Dunedin - Text HOPE to 469 to make an automatic $3 donation.
Otago Cricket CEO Mike Coggan acknowledges the commitment Otago Cricket has and the impact this has on the wider community; "Mental Health is something that affects us all regardless of age, gender or ethnicity.
Otago Cricket are proud to be doing our bit this Sunday to support
I Am Hope
and their efforts to promote positive attitudinal societal change around mental health throughout New Zealand"
Otago Volt Max Chu adds insight from a players perspective explaining the players' excitement to be involved in such a meaningful cause.
"'I Am Hope' is an outstanding organisation that promotes real actionable change in the mental health space," said Chu.
"More than ever in sport, as well as outside of sport, the importance of mental health is being recognised as just as important as physical health" Chu continued.
"I know both the Volts & Sparks are stoked to be supporting such a great cause."
The action starts on Sunday 23rd February at University of Otago Oval, Dunedin with the Otago Sparks taking on defending champions the Canterbury Magicians from 10:10am followed by the Otago Volts versus the second placed Canterbury Kings from 1:40pm.
Update:
Otago Cricket and Grand Casino raised a combined $3944 on matchday, a contribution welcomed by Dallas Gopi of I am Hope; "Excellent work, thanks so much to Grand Casino and Otago Cricket for its continued support for this very worthy cause. We have had a few fundraisers cancel due to COVID recently, so the on-going support is thoroughly appreciated - you guys really are helping get our kids to a better place."


For more information about I Am Hope, to donate, or to find resources about how to deal with Mental Health, please visit https://www.iamhope.org.nz/.


Ticket details: https://otagocricket.flicket.co.nz/events/1327a00a-ba40-4112-bf6d-b4a6ac83efb3/reservation